Our services portofolio has been built in a comprehensive manner. We aim at delivering to you the knowledge, tools and consulting expertise necessary to meet your business requirements. This will ease the management, the implementation and the optimization of each component developed along the life cycle of any of your projects.
Despite the stage you are on in your business roadmap, our deliverables will be tangible and quantifiable to meet your timely expectations. Our objective is to increase business value within your company, and so we will coach you along the life cycle of the projects. Our approach sticks to the common sense and is structured along the traditional phases of a SAP Business Analytics project.
Below we have outlined specific SAP Business Analytics services delivered by morphollis.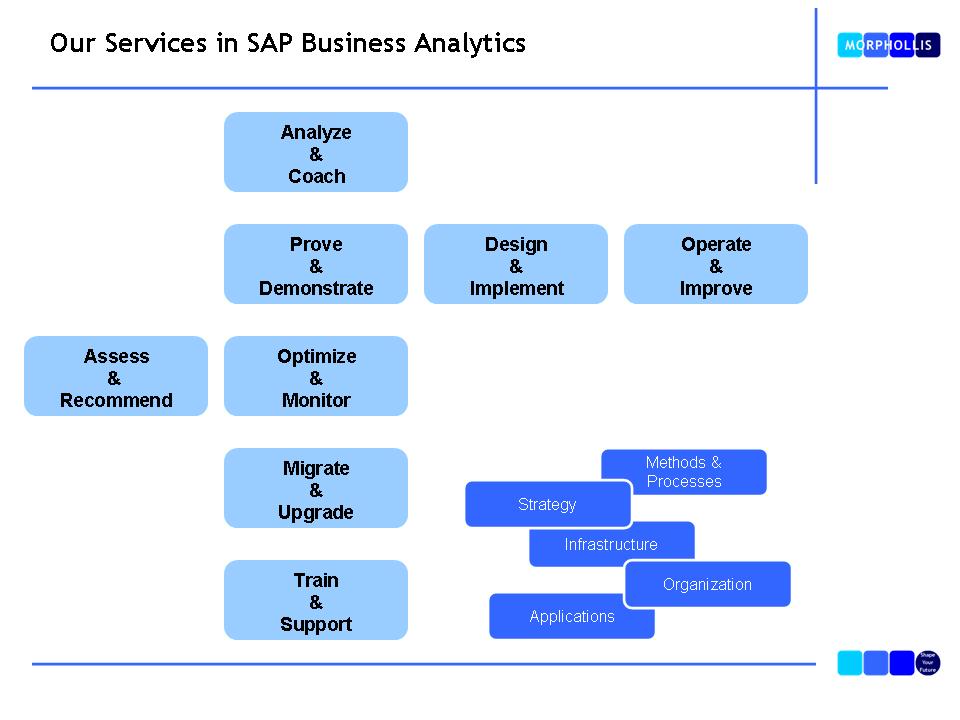 Assess & Recommend – Evaluates today's situation along several axes and recommends ways forward
Analyze & Coach – Defines the SAP Business Analytics strategy of your company and plans the implementation roadmap
Prove & Demonstrate – Quickly sets up a demo proof of concept so you can have a taste of how the final solutions may look like and get familiar with the products
Design & Implement – Delivers the expertise, knowledge, and support you need to quickly plan and implement SAP Business Analytics solutions with minimal risk. Achieve goals, increase the effectiveness of complex programs, and resolve the challenges involved in instituting organizational change and maximizing the benefits of implementing SAP Business Analytics solutions.
Operate & Improve – Provides organizations with the flexibility they need to adapt to business changes, accelerate technology innovation, and standardize and optimize their operation of SAP Business Analytics solutions – all while reducing their costs related to managing an application's lifecycle and creating an IT architecture that meets business needs
Optimize & Monitor – Provides expert-led guidance in generating business and strategic insight that can optimize results, using leading-edge modeling, forecasting, and performance and predictive analytics
Migrate & Upgrade – Assists your company in changing the SAP Business Analytics platform and/or software version
Train & Support – Offers a comprehensive range of training & support services for improving the fluency of your staff in SAP Business Analytics solutions